The recent spell of cold weather, snow and ice, will be viewed by most as something to be endured but hopefully not long lasting.
For team members (and many hill walkers) in lockdown the arrival of winter in its full sense is welcomed with a degree of excitement. This snow is all the more welcome to the team as February was the month in which BSARU members journeyed to the Cairngorms for their annual winter skills training.
It holds the prospect, once there has been a thaw/freeze cycle, of opportunities to get into the hills and hone individual skills of walking with crampons on icy ground, practicing ice axe arrests (an essential safety skill), cutting steps if required to support on steep slopes, and consideration of avalanche risk.
For the team other opportunities present themselves. There is the possibility of creating snow bollards, using a deadman plate, or ice axe anchors for stretcher lowers which may negate the need to carry heavy ground anchors and hammer. The evacuation of a stretcher bound casualty is also made so much easier as the runners on the stretcher allow for it to be toboganned along on the surface. Navigation in a snowstorm requires precise skills with many features altered or obliterated. Personal gear undergoes a rigorous examination of its effectiveness.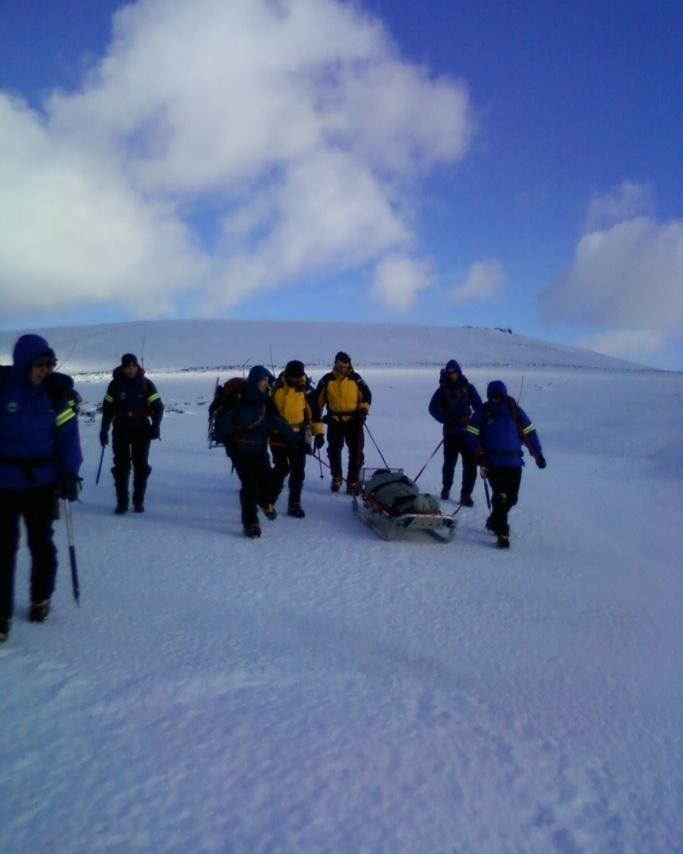 Recent training on the fitting of snow chains to the rear tyres of team vehicles becomes a justified precaution. Light weight mountaineering snow shovels, avalanche probes and flags are readied in case of need.
For these reasons team members and many hill walkers will hope the snow on the hills does not disappear too quickly.
As with rugby teams training without having matches, or in the team's case callouts, can begin to take the edge off effort. The spate of recent callouts due to the adverse weather is therefore a mixed blessing. Overnight searches, interrupted activities or work, are compensated by the feelings that all the sacrifices are worth it.
Seymour Haugh